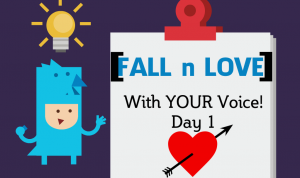 On this 1st Day of FALL, let's do something extraordinary, something remarkable!
Do you want to know the most important secret to singing?
You might have guessed by the subject line of this article.  Yes, Falling in Love with your own voice is arguably the best thing you can do to improve your singing.  You'll find more confidence, you'll create a sense of magnetism that others will want for themselves.
Imagine what it's like watching a couple who are in love with each other?  It feels good, and provides a sense of joy and pleasure to all those around.
Convinced?  I'll bet you are… BUT, HOW?
For most of us there's not an on/off switch that can be flipped to suddenly be in love with your own voice.  It can take a little time and effort, just as in any relationship.
Doubts
The doubts we have about ourselves (our voices) can be a showstopper, literally.  So, we go to work on the areas of doubt from two angles.
First, we identify the doubt areas and set in action a course of correct/improvement.
Second, we work on loving ourselves for all that we are, right now! This can come through building practices of self compassion, affirmations like "I Love to Sing" or "I Love My Voice".
For identifying areas of improvement, perhaps one of the most noticeable is vocal pitch. Fortunately, there's a great program, PitchPerfector, which helps you understand your current pitch issues, and trains you to sing on pitch.
The combination of taking positive action to improve, combined with self acceptance is a powerful WINING FORMULA!
Leave a comment below on your thoughts about this article… and…