Today we take a look at using Music to inspire physical Art.  And, postulate how this process can be used to Free Your Voice!
There are many ways to combine art with music, so don't think this prescription is the only way – make up your own way!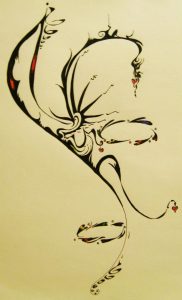 Step 1: Gather your art materials: in this case a sketch pad and drawing pencils
Step 2: Put on (play) desired music (in this case – classical piano)
Step 3: Let your artistic expression flow!
Here's the example my daughter created:
(to support art by Katie Pierce click here)
Click the image to see finer detail
So,  how might this extend to freeing your voice?  Please participate in the discussion in the comments area below.
Example starter ideas:
This technique can be applied to physical body art, or Ecstatic Dance, for example.  In the case of Ecstatic Dance, as the body moves and flows with the music, you can also imagine the voice freely expressing vowels, sounds of nature, or other utterances.  Just let yourself go and be creative for the soul purpose of being creative in the moment – not to create a masterpiece.
When we allow ourselves the freedom to let our creativity flow, amazing things often unveil.