On first glance the idea of Interval work for Singers sounds about as exciting as working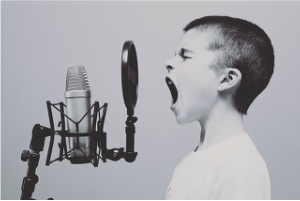 out at the gym (not to dis those who get excited about working out – it's a great thing!).
But, let's face it, all of our music is made up of intervals and we need to be solid in making those leaps.  What's challenging is finding a good way to practice without being bored to tears – something that keeps us going!
SOLUTION
Find a practice pattern that is FUN!!!
In this article, we borrow one of my favorite exercises of all times (from Foundations of Singing Lesson 3).  We work with the intervals:
Major 2nd
Major 3rd
Fourth
Fifth
The pattern we use is: 151413121
I think you'll find this pattern is not only a great vocal pedagogy exercise, but is FUN and easy to do.  Make it something you do while shopping for groceries, driving down the road, while on a walk, or riding your bike… You can even practice at low volumes!
Within a short time you'll discover that you've mastered these intervals.  From this point forward if someone says, sing a 4th above this, you'll know exactly where to go!
Here's a recorded Practice Example using Tongue Trills:
I hope you enjoyed this article and the Practice Example.
Please leave a comment below.
All the Best,
Stephen